Competitive Gymnastics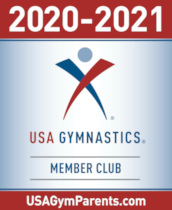 McKeon is a member club of USA Gymnastics, the national governing body of youth gymnastics in the United States. Most of our competitive gymnasts are chosen from our class programs as they are designed to serve as a building block to our teams. Students compete within the state of Massachusetts as well as regionally and nationally, and train between 6 and 18 hours per week. We currently offer USAG girls level 2 - 9.
McKeon also offers a great Xcel team program for girls who are looking for an alternative to the level program. This is a great program for those who participate in multiple sports. The Xcel program starts at Bronze and advances to Silver, Gold and Platinum.
» Click here to view the Gymnastics Levels Guide
Sabrina Cassano
Ana Lynch
Alexandra McCall

Julia Antetomaso
Stephanie Campos
Jayden Kudrikow
Jordan Munro
Aerial Orell
Ava Doyan
Sofia Ferreira
Jordan Gundacker
Abigail Pilkington

Hannah Bacon
Shylah Baker
Natalie Doran
Charlotte Foley
Sofia Goldman
Sindisiwe Khumab
Kady Marder
Maia MItchell
Emma Palmer
Analise Piselli
Madison Schena
Emily Barlas
Lily Ferra
Leila Guilbault
Skylar Hearn
Emily Kee
Leah Magalhaes
Grace Miarecki
Ashley Schena
Mey Villa
Aubrey Zozzaro

Rylie Beland
Lauren Horrigan
Caleigh Wilson
Avery Allcock
Makenzie Jones
Ekaterina Kelley
Annabelle Samuelson
Natalia Vazquez

Aubrey Beland
Alyssa Burdzel
Cayla Cavaliere
Lorelai Drapeau
Kallie Tevepaugh
Charley Beland
Isabelle Proia

Sarah Abeltsai
Ava Damata
Cayleigh Haynes
Brooklyn Lamoureux
Giovanna Madrona
Lexie McKibbin
Ava Robinson
Giselle Rodriquez
Kailey Wightman
Competitive gymnastics is not like a season sport, there is no off season. Training for gymnastics is basically a way of life. Competitive gymnastics involves the whole family and we are proud to offer such a wonderful character building program.
Our goal is to provide a fully equipped facility through which children of all ages can safely learn gymnastics under the expert supervision of our caring and supportive staff. McKeon's gymnastic team are state and regional champions, and have had the privilege to train all over the world. The McKeon's gymnastic team was the first gymnastic club from the United States allowed to train in the communist Romania for one week with their Jr National team, club Fural at the "Tomis Sport Complex" in Constanta. This was a once in a life time experience for our gymnasts and an honor for us to have been chosen.
Our gymnasts continue to strive for excellence and the team was again chosen for another huge honor, to be members of the 1st delegation that the United States sent to perform at the World Gymnastrada in Berlin, Germany. At Gymnastrada our gymnastic and dance team performed a beautifully choreographed routine with a team of gymnasts from 90 other countries from around the world.
We are very proud of all our gymnasts. If you think your child has what it takes, the office staff is willing to give you all the necessary information and schedule an evaluation. Call us today at (508) 473-8166.